This article will explain everything you need to know about growth hacking so you can start applying these techniques to your own business.
Growth hacking has become a commonly found term within the marketing sector now for a number of years. However, with multiple definitions found across the internet, it may seem a bit difficult to wrap your head around exactly what this concept is and why it is important for businesses in today's climate.
The idea behind growth hacking is to make your business successful by finding ways to use data and creativity together. Growth hackers try to increase their sales and reach new customers by using innovative techniques and maximising every penny from their marketing budget. Additionally, they focus on improving products so they will attract more people naturally through word of mouth or other sources outside of the company itself.
What is growth hacking?
While it may seem like a buzzword that every business is trying to claim for competitive gain, growth hacking consists of testing ideas that can result in growth through trial and error.
Growth hacking is essentially a combination of short-term tactics that are driven by data, with a sole focus on growth for businesses, via quick results and lucrative opportunities. It is typically implemented within start-ups, that are seeking big wins within a short period of time.
A growth hacker's goal is to answer every new business's question: How can I gain as many customers as possible, with limited resources?
They seek to achieve growth by finding new opportunities as well as optimising current tactics, through experimentation.
However, the difference between traditional marketing and growth hacking is that the latter focuses on the full customer journey, as shown in the AAARRR (Pirate) funnel.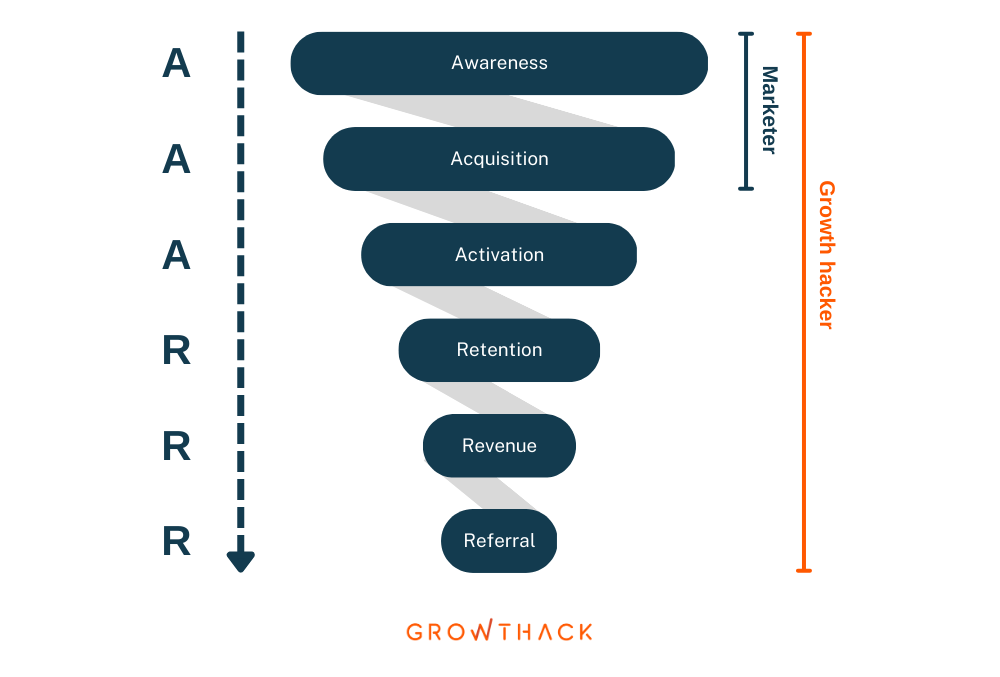 – and why is it so important?
In previous years, companies have presented a product/service to the market, waited for results to generate and then acted – either via improvements or by starting from scratch.
However, with growth hacking, improvements can be made as early as the development stage, presenting businesses with the advantage of quick adaptability. In addition to adaptability, there are a few benefits worth mentioning.
Benefits of growth hacking
A clear strategy on ROI: By using data to form decisions, its performance can be tracked – enabling growth hackers to see what strategies are successful in acquiring and retaining customers. Strategies that have proven to be unsuccessful can easily be scaled down, providing additional capital to the winning strategy.
Low resources: One person or a small team is needed to implement this strategy
Cost-effective: Unlike traditional marketing, growth hacking doesn't incur as many costs as the former marketing strategy. Tactics such as optimising landing pages for highly ranked keywords and creating/editing content to meet your audience's search queries can be implemented fairly quickly without breaking the marketing budget.
Growth hacking vs. growth marketing
Growth hacking and growth marketing can often be mistaken for one another as they both share the goal of growth and utilise marketing tactics to achieve it. So, in this section, we aim to decipher any confusion between the two strategies and provide insight into everything Growth Marketing related.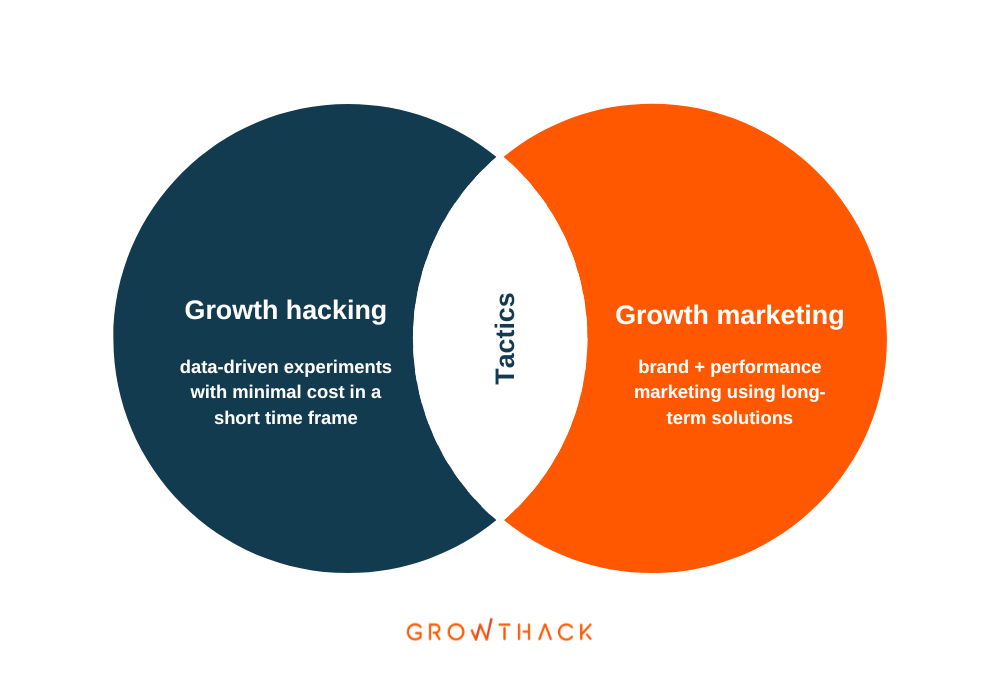 Growth hacking focuses on fast growth via short-term tactics whereas, growth marketing aims to sustain the growth achieved from growth hacks for the long term. However, when these two strategies are used in unison.
There are similarities between growth marketing and growth hacking:
The end goal is a common interest between the two approaches as they aim to achieve growth through customer acquisition, retention and monetization.
The reliance on data. Both approaches use qualitative and quantitative data to make informed decisions on what tactics to pursue, which will form the basis of their marketing strategy moving forward.
The desire for constant improvement. Growth Hacking and Growth Marketing use experimentations to gather data for future methods of growth as it enables the organisation and overall brand to improve and align with user needs.
Both approaches rely on a good product to be the foundation of organisational growth – marketing efforts and growth hacks will be ineffective if the product offered to the market is not good or does not fulfil the needs of the target audience.
Despite the very broad similarities, both approaches have unique differences which, makes each useful to an organisation at various stages.
What makes growth marketing different?
Beyond the main difference between short-term vs. long-term growth, there are other factors that make these two growth approaches dissimilar.
1. Attachment to the brand
Growth hackers focus on tactics and channels that guarantee growth in users and revenue that can be measured. Whereas, Growth Marketers focus on the brand and the tactics that build a consistent and positive experience for users – tactics that are difficult to measure.
While growth marketing tactics such as maintaining customer relationships via social media comments and consistent content can not be measured, these examples can be beneficial to a company in the long term. This is because a strong brand-customer relationship will be formed.
2. Growth hacking can be showcased in a single tactic, Growth marketing requires consistency.
If done right, businesses can experience massive growth from one tactic, just like Dropbox did with their incentive of free cloud storage for users, who sign up via referral links.
Despite the quick growth that can be achieved through growth hacks, growth marketing is effective if the target audience is understood and considered at all times. In comparison to growth hacking, this approach focuses on maintaining long-term success by assessing and implementing every appropriate tactic for future use. This provides the business with an insight into what customers needs and how the brand can meet their expectations.
3. Technology for Growth Hackers, People for the Growth Marketers.
Growth hackers rely on technical skills whereas, growth marketers are people-centred. The latter aims to know and understand who the best customers of a business are, how a product should be differentiated for development and positioning, etc.
Growth Manager, Growth Hacker or Growth Marketer?
These roles may play different positions within the growth team of an organisation, but their goal remains the same, to grow a company through customer acquisition, retention and revenue.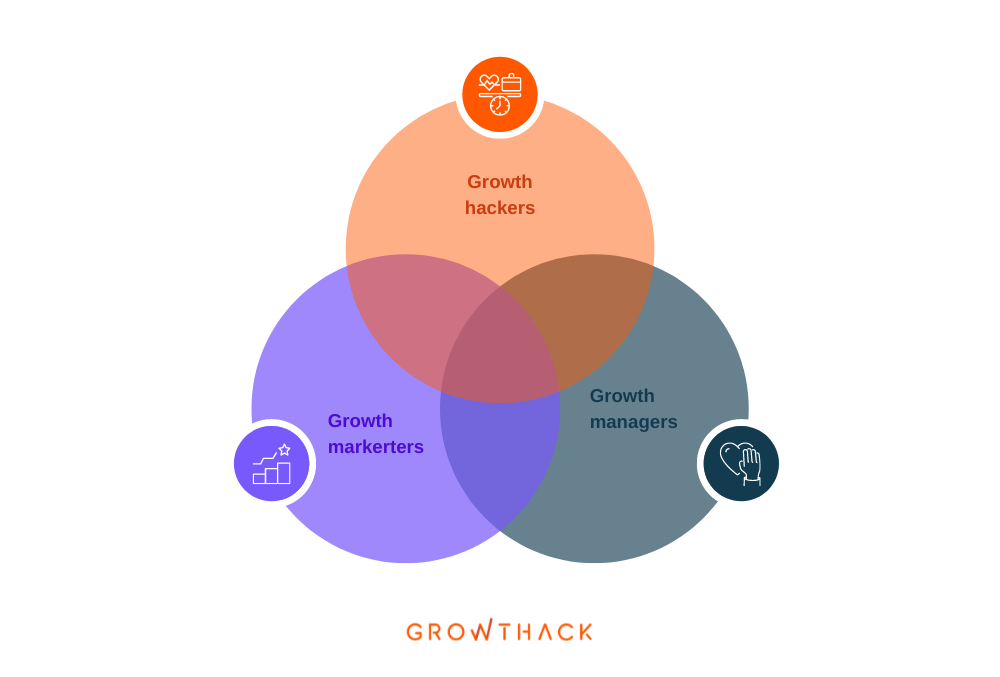 – Growth Managers
A growth manager has the responsibility of leading multiple teams and aligning with multiple departments within the company. They're growth hackers that focus on nurturing the growth achieved so far. This role demonstrates leadership and means the individual holds responsibility for the team.
– Growth Marketers
This role consists of figuring out what tactics achieve longstanding success, which contrasts with the role of a growth hacker who seeks tactics for short-term wins.
– Growth Hackers
These individuals within the team use creative strategies which are low-cost to help businesses gain and retain customers.
"A core mandate for growth teams is to find every last bit of growth potential through a laserlike focus on continuous testing of lots of tweaks to a product, its features, the messaging to users, as well as the means by which they're acquired, retained, and generate revenue."

Sean Ellis | Author of Hacking Growth
Skills of Growth Hackers
– Data tracking and analytics
The core element of growth hacking is to test and try out various experiments that can achieve growth for a business. Therefore, developing the ability to analyse and understand the data gained from these experiments is a key skill for every growth hacker to acquire.
In order to know where to even begin or where best to invest your efforts for quick growth, current data needs to be analysed to understand what experiments can be conducted. For example, performance via marketing channels can be assessed through data to see what channels are effective or low in ROI.
Following these experiments, the strengths and weaknesses of a business's strategy for growth can be understood and altered.
A growth hacker should be able to:
Leverage Google Analytics data
Use Facebook Business Suite, Twitter for Business, or any social media ads tracking platform
Track organic search performance with the Google Search Console or other third-party tools such as Semrush
Monitor the CRM that an organization is using
Know how to score leads
Monitor spreadsheets with lead-generation data
Validate and qualify data
– Search Engine Optimisation (SEO)
This skill is good to acquire as an increase in organic website traffic can lead to an increase in brand awareness and customer acquisition.
By knowing how to identify and improve on-page SEO elements e.g. headings and meta titles as well as technical SEO elements such as structured data and broken links, your website can be improved in a relatively short period of time; depending on several factors such as content quality and how trustworthy your website is.
– Lead Generation
Every business needs more customers/users to continue the increase in growth therefore, lead generation is a skill that is key for a growth team.
For this skill, a growth hacker should be able to identify market opportunities, create ideal customer profiles, segment the current market, determine the appropriate channels to use, as well as verify and nurture leads – just to name a few responsibilities.
There are a variety of lead generation experiments that you can try out today, read more.
– Copywriting
A growth hacker should know the basic elements of copywriting such as how to write a good & effective CTA, identify good copy from the bad and how to write copy if needed. According to Hubspot, websites that have blog content gain 55% more traffic to their site than those that do not.
If you're looking for ways to repurpose your current content or gain ideas for new content pieces, think about what your audience wants to know. Are they looking to be entertained or informed? Do they wish to consume your content quickly or would they like to know the ins and outs of a topic?
– UX: Mapping Out the Buyer's Journey
Growth hackers are in charge of understanding and mapping out the company's buyer journey as it is important to know how to engage customers at each point of the AAARRR funnel because each stage leads to an increase in customer acquisition with brand awareness and lead generation as a potential result.
By understanding a buyer's journey, the growth team can predict customer behaviour and adapt their current strategy & tactics accordingly.
Once a customer converts, growth hackers should be able to collect and use the information gained to determine what went well and how to improve.
– Possessing a Hacker Mentality
As stated by Mattan Griffel, a hacker is someone who is more concerned with achieving an objective than following a prescribed process. In a nutshell, a hacker cares more about what needs to be done, instead of how it should be done.
What is a growth marketing agency?
A growth marketing agency enables businesses to achieve growth objectives, centred around the brand via marketing, technology and growth hacking tactics. This type of agency focuses on growth at a holistic level, in comparison to traditional marketing agencies, which only focus on one aspect of marketing.
Growth agencies aim to improve overall growth by improving various aspects of the business.
Quotes From Growth Marketing Experts
"Growth is an aftereffect of strong product/market fit and great distribution."

Andrew Chen | Partner at Andreessen Horowitz
"growth hacking is a team effort, that the greatest successes come from combining programming know-how with expertise in data analytics and strong marketing experience, and very few individuals are proficient in all of these skills."

Sean Ellis | Author of Hacking Growth
"Whereas marketing was once brand-based, with growth hacking it becomes metric and ROI driven."

Ryan Holiday | Author of Growth Hacker Marketing
How much do growth hackers earn?
According to Glassdoor, Growth hackers can earn on average over £35,000 per year, with the highest salary being £52,711.
5 Growth hacking strategies
There are a variety of strategies and techniques that are reflective of growth hacking, all of which can turn prospective buyers into consumers and increase awareness of your brand among your audience.
– 1. Evergreen content
Evergreen content is content that can be repurposed to fit the new needs of your audience such as new trends, updates, etc. Old blog posts can be turned into content for email newsletters, for example.
– 2. Referrals
This growth hacking tactic has been found to increase customer acquisition for start-ups as customers are 4 times more likely to enquire or make a purchase if a current customer vouches for the product/service.
This example of word-of-mouth marketing has evolved from customers just telling their close friends and family. Social media platforms e.g. Instagram & Tik Tok enable start-ups to reach a wider audience than in previous years, this can build brand awareness via a strong following.
– 3. Interactive content
This tactic is becoming popular within marketing campaigns, with multiple businesses such as Spotify embedding interactive content, this benefits current users as well as encourages prospects to join or try a product.
– 4. Optimise your online presence
Optimising your online presence can be shown in many ways. For example, ensure that your brand elements are promoted across your website to meet the image that customers have of your company. Another way to maximise your online presence is to improve SEO elements such as website speed, navigation, and format of the website on various devices e.g. mobile & desktop.
– 5. Social media advantage
In recent years, social media has played a major role in boosting a brand's image and promoting its offerings. With Tik Tok generating 689 million monthly users worldwide, users utilise the platform for recommendations and advice due to the transparency that customers provide.
By using social media to your advantage as a start-up, you can gain insight into what customers think about your offering and create challenges which encourage your followers to sign up for blog content or to use new products. This growth hack can increase your online visibility as you will gain more followers, and increase product and brand awareness.
Growth hacking examples
"Every single experiment at HubSpot is carried out with the sole purpose of driving more free users to their products."

Matthew Barby | Director of Acquisition at Hubspot
– 1. Preply
Preply is a language-learning app and e-learning platform, with over 100,000 monthly students. Preply differs from Duolingo and Babbel as it provides live tutoring to students online, making it the "most effective way to learn a skill".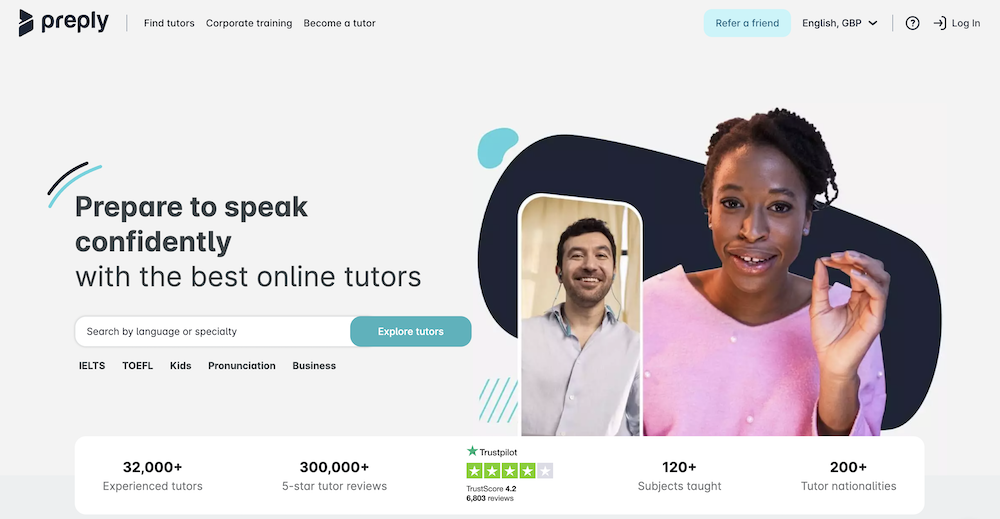 Growth hack: Referral program & incentives for current customers
Their search growth of 1900% has been achieved through their affiliate program, a growth hacking tactic as the company encourages users (students & tutors) to tell others about their Preply experience via social media platforms e.g. TikTok, with the hope of new users joining through referrals. 93% of marketers are aware that users trust content created by current customers, in comparison to brands therefore, the success of this growth hack for Preply is not surprising as user-generated content (UGC) has become a trustworthy source for TikTok users.
In addition to affiliate marketing, Preply provides financial incentives for consumers who succeed in gaining new users, allowing them to use the financial reward for their personal use or towards the cost of their next lesson.
– 2. Only Fans
OnlyFans is an internet content subscription service, which offers creators a better payout percentage when they share their personalised content via the platform. Despite the platform being created in 2016, it gained a worldwide buzz during Covid 19, mainly for its adult content.

Growth hack: Referral program & social media presence
Like most start-ups, the key to customer acquisition is getting your current users to talk about your business to new people and that's exactly how OnlyFans built its user base. By referring new creators to the platform, current creators gained 5% of that creator's earnings for a year. This growth hack encouraged many individuals to sign up due to the financial incentive provided.
Recently, the content creation platform has showcased a new growth hack -exclusive content for paying subscribers. The OnlyFans platform enabled creators to connect with their social media followers in real time, sending notifications to them, who were then encouraged to sign up to OnlyFans to view exclusive content. This hack has proven to be very successful for the start-up company as the number of users has increased due to famous entertainers from Cardi B to Bella Thorne providing content for those who have a monthly membership to the subscription service.
– 3. Tripadvisor
Tripadvisor is an online travel company that operates a website and mobile app with user-generated content and a comparison-shopping website. The organisation gained user traction by adopting a white hat SEO strategy – building a quality website with external links to the relevant content shown on its site.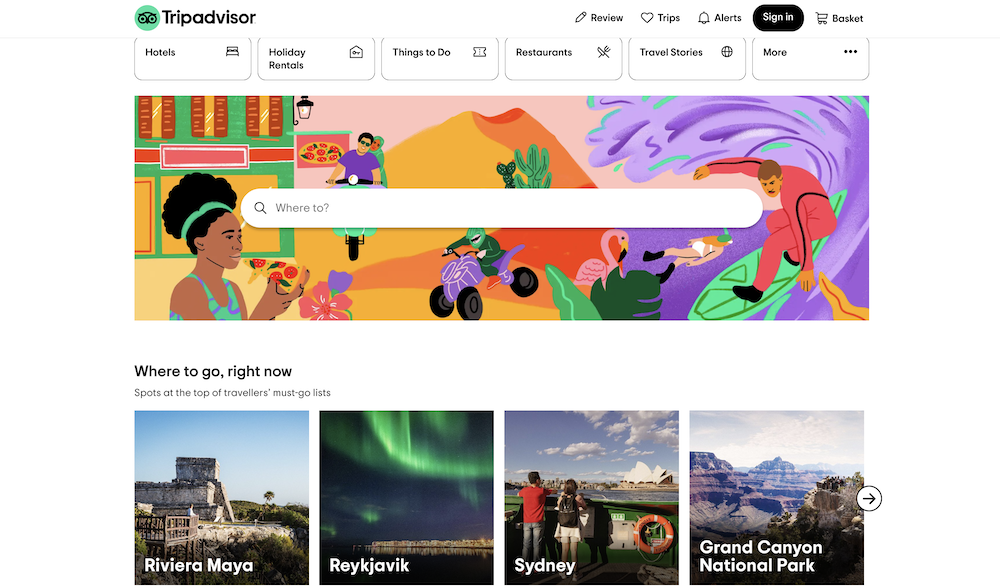 Growth hack: SEO through relevant backlinks from external organisations
The travel company's partnership with external organisations such as hotels and restaurants enabled an increase in user traffic, as the hotels for example, that gained reviews via Tripadvisor displayed the badge as a trust signal to consumers on their website/physical store. Therefore, Tripadvisor gained traffic via backlinks from their partners' sites but also from its first-page placement in Google's search results – resulting in growth with one billion reviews and opinions being displayed by the company in 2021.
– 4. Spotify
Spotify is an audio streaming and media services provider.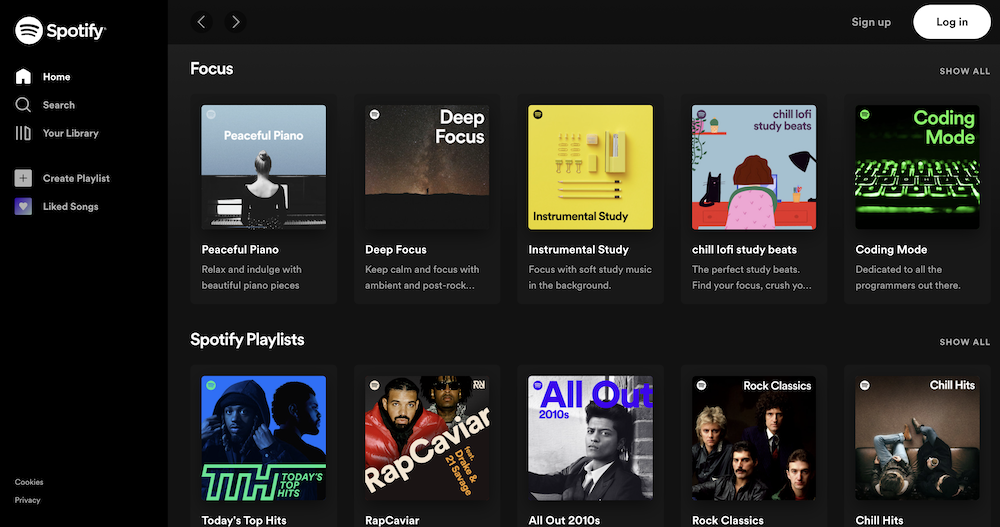 Growth hack: Word of mouth & interactive content
In recent years, the streaming service has demonstrated a new growth hack – personalising subscribers' app experience through their yearly marketing campaign, Wrapped. The campaign offers users information about their listening activity such as their top 5 artists, songs, and genres – all within the last year. The campaign visuals are presented in a format, similar to a Snapchat story along with a CTA to share on social media platforms.
This growth hack has proven to be successful with the term "Spotify Wrapped" being searched 2.9 million times on Google in the past month – a 27% increase vs last year according to Glimpse and Google Trends data, along with a surge in user subscriptions every year.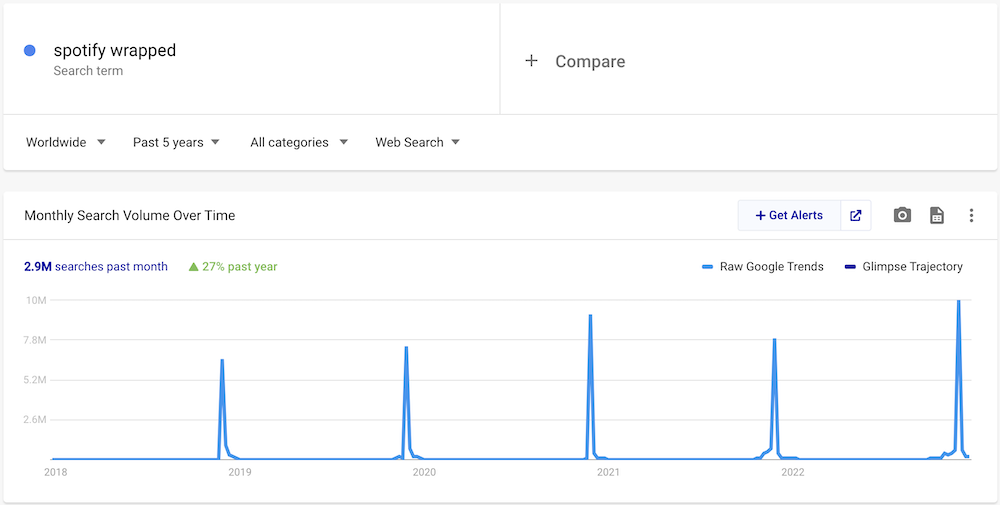 This enables Spotify to maintain a low cost for their user acquisition tactic because their users share their personalised brand experience for free, which then encourages non-Spotify users to join the streaming service due to the fear of missing out.
From this growth hacking tactic, Spotify has minimised its marketing costs while increasing yearly metrics including, revenue & the number of users that subscribe to the streaming service.
– 5. Manscaped
Manscaped is a male grooming company, known for its grooming tools and hygiene products.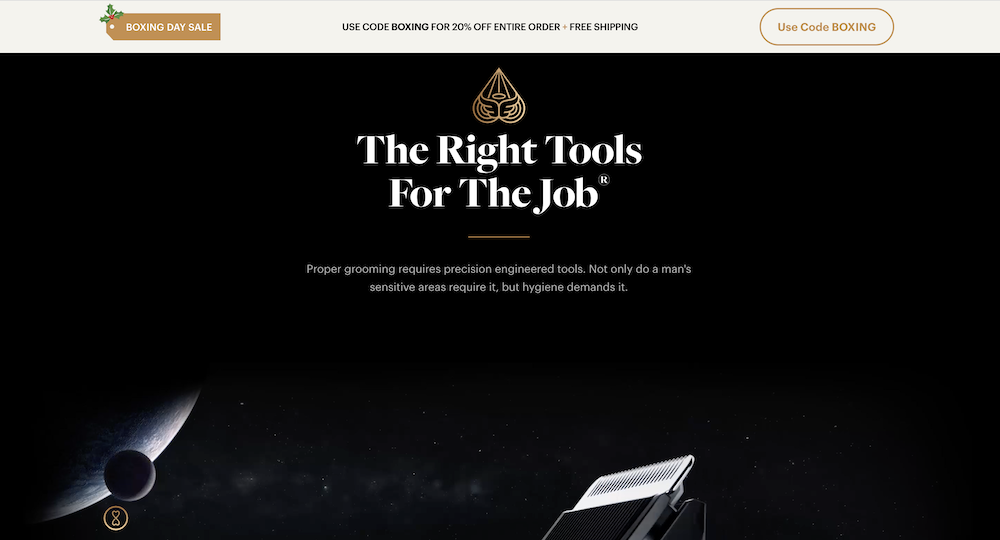 Growth hack: Brand-Customer engagement
The tactic that ensured the brand's increase in user growth was their 'social first' strategy – using social media platforms such as TikTok and Instagram to connect with their target audience (millennials and generation z individuals) about the private subject of genital grooming. Their approach remains effective with the brand having 473.8K followers on TikTok, most of which their social media posts and advertisements, consist of product guides with a humorous twist but also analogies that their audience can relate to.
Manscaped – Pool Table Advertisement
– 6. Linktree
Linktree is a tool that allows individuals like influencers or celebrities to use one link in their Insta bio to house all relevant content that they want followers to be driven towards.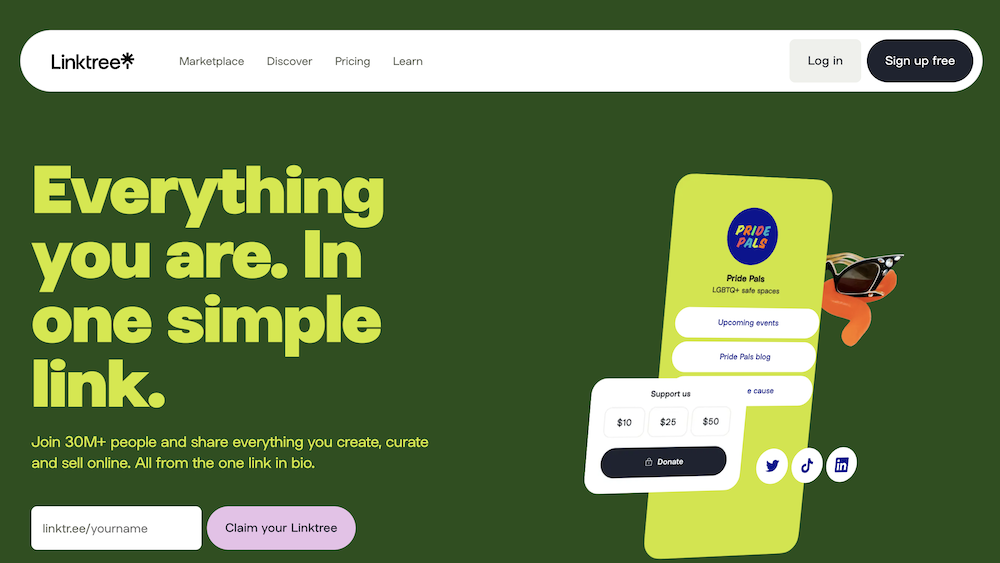 Growth hack: Social media advantage
The tool gained traction via social media platforms as well-known celebrities such as Alicia Keys used Linktree as a sole hub for all external links that would be of interest to her followers. This alleviated inconvenience for followers as they were able to use the tool to see up-to-date links as well as Linktree's core audience – social media celebrities, as they can use the tool to connect with followers and profit off their social media presence in real-time.
This effective use of social media platforms has enabled the start-up to gain 9 million users as of 2021 and be valued at $1.3 billion.
– 7. Loom
Since its launch in 2015, Loom has showcased multiple tactics that have encouraged growth in users, 14 million reported this year.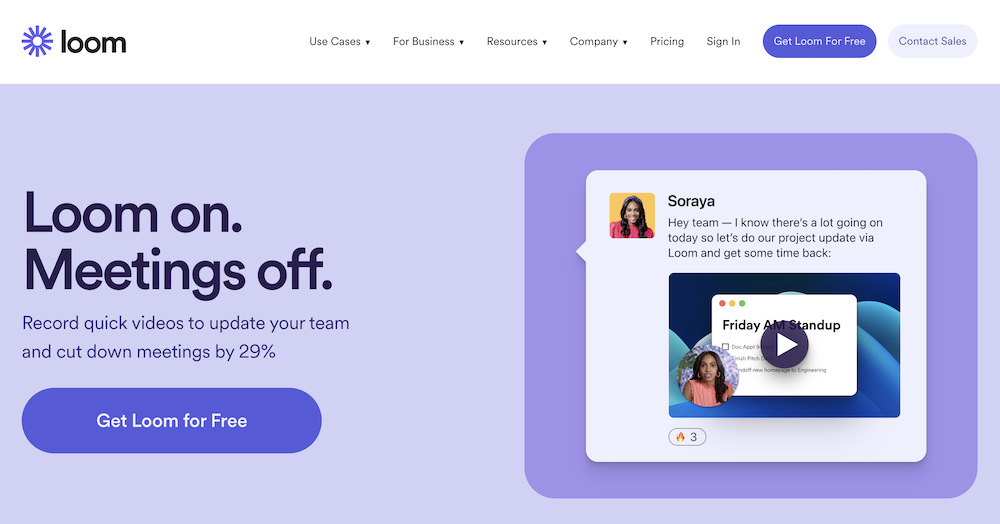 Growth hack: Product forums, brand-customer engagement, The Velvet Rope strategy & product trials.
It was first launched on Product Hunt, a community-based website which enabled the start-up to communicate with their first-time consumers. This tactic meant that users and the founders of Loom could easily connect via a chat communication style and gain feedback on their product.
Following its launch, Loom has implemented a variety of growth hacking tactics into its strategy to increase customer acquisition, such as:
The Velvet Rope strategy – Users who signed up for the desktop version of the tool were given a place on a waiting list. However, to speed up the process and ensure access, users were encouraged to share the link provided, with the guarantee of moving further in the queue. The feeling of exclusivity ensured a desire for the product consequently, increasing brand awareness – the more the link was shared.
Product trials – For individuals who were exposed to a video created via Loom, they would watch the content and then see a CTA at the end of the recording, encouraging them to sign up for free.
The use of the slogan 'Get Loom to become faster than typing' communicates to the viewer that the video tool eliminates the pain point of inconvenience.
With over 14 million users to date, the company's ability to keep users at the core and adapt marketing tactics frequently and at a low cost showcases a great example of growth hacking.
What does growth hacking mean for digital marketing?
– Is it replacing digital marketing?
The process of growth hacking considers every stage of the AAARRR funnel with the overall goal being business growth. Digital Marketing, however, focuses on the marketing of a business's offering, such as services and products through online platforms.
While the two aim to improve the awareness surrounding a business, the relationship differs as growth hacking is a combination of tactics to achieve company growth and digital marketing is one of those tactics. The relationship is not interchangeable therefore:
not 'all growth hackers are digital marketers AND not all digital marketers are growth hackers.'
As shown in the examples, tactics that were tested and implemented were done so, as part of a digital marketing strategy, which in hindsight enabled these businesses to gain customers or awareness and consequently grow, making them an example of a 'growth hacking' organisation.
While these two strategies can achieve the same outcome of customer acquisition, customer acquisition is a method of achieving business growth, which is the ultimate goal of growth hacking.
Therefore, growth hacking is like a vehicle, digital marketing is the petrol that enables the car to move.
Summary of the point – Growth hacking is a strategy, and digital marketing is a tactic – to even go deeper, customer acquisition is a goal that is achieved by digital marketing to enable the goal of growth hacking.
– Benefits of digital marketing
1. Utilisation of multiple platforms
From digital marketing alone, there is a variety of platforms from websites to social media channels that can enable your message to reach a wider audience. This differs from traditional marketing, which typically focuses on one or two marketing channels due to cost and time restraints.
2. Effective targeting
A well-thought-out digital marketing strategy can enable data to be gained on what audience will be the most receptive to your offerings or brand. The tactics that can help you find out how best to segment your audience for effective marketing are keyword research and demographic data from social media platforms such as Instagram, Facebook & TikTok.
3. Multiple strategies
There are various strategies including:
Email marketing
Social media marketing
These strategies can be implemented all at once without affecting your marketing budget. However, the key is to always analyse the data provided from each strategy and hone in on the ones that give the most relevant results.
4. Multiple Content Types
There are a variety of content types that can be used to showcase your offering and brand. The examples below can be published on platforms like your website and social media platforms – all of which can work simultaneously to achieve a wider audience reach.
Social media posts
Infographics
Webinars
Blog posts
Podcasts
5. Increase in customer engagement
Users can share and comment on your content across various channels such as social media, Spotify and your website. Therefore, this interaction can be measured, which will allow you and your team to gain insight into what engages your audience – this can aid any growth hack for future brand awareness and promotion strategies.
Remember the more you engage with your audience with relevant and engaging content, the stronger your brand-customer relationship becomes.
Your business growth strategy
– What defines business growth?
Business growth is defined as a point at which a business wishes to expand by seeking additional options for revenue & profit. This growth is dependent on the business's lifecycle, industry growth trends, and the owner's desire for equity value creation.
Growth can be achieved by focusing on the product/service provided to generate more sales or by minimising costs to create funding for product/service development. However, while the majority of businesses see sales and minimisation in costs as a form of growth, other businesses consider customer and employee experience as part of their growth strategy.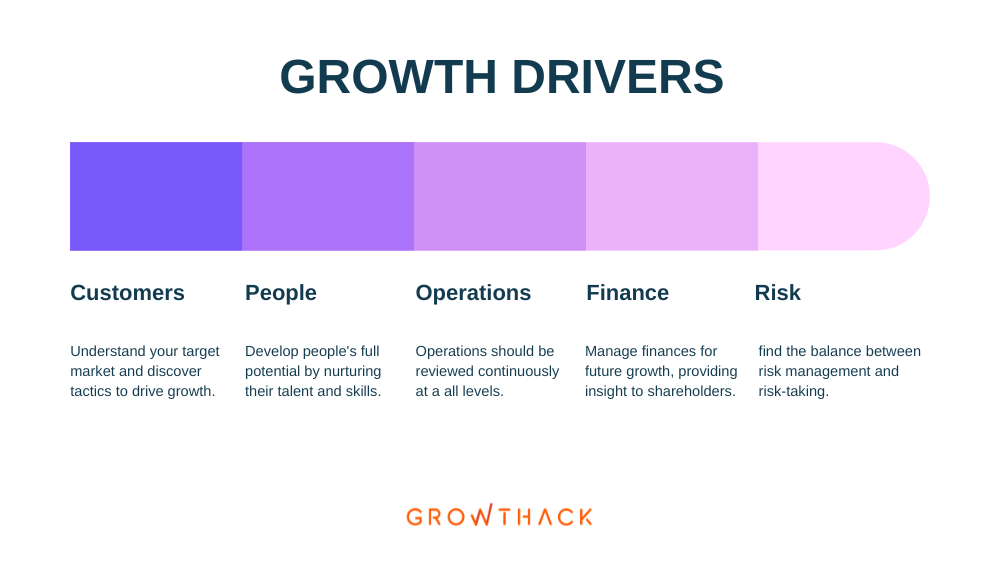 What are the main business growth drivers?
– Customers
Successful businesses view customers as a focal point and aim to meet customer expectations to achieve a competitive advantage. Businesses can understand their target market and discover tactics to drive growth via customer retention and acquisition by anticipating their future needs, which can create loyalty and sustainable growth.
– People
An organisation's foundation is built up of its offering but also the people or employees that make the organisation work and grow on a daily basis. It is important for businesses to create a workplace which values diversity and positive work culture, this can be achieved by gaining those who fit the company's culture, purpose and vision.
From an employee perspective, companies should invest in developing their full potential by nurturing their talent and skills so, that the demands of the business can be met and value can be provided.
– Operations
Ensuring that operations align with an overall business strategy will increase a company's ability to achieve success as they can cope with changing customer needs, buying patterns and new market entrants. Operations should be reviewed continuously at a micro and macro level and should also be flexible to adapt to business opportunities and future risks.
– Finance
A business cannot survive without capital therefore, it is important to be aware and understand how an organisation manages its finances for future growth and also, to give shareholders and stakeholders insight into how funding is being used.
– Risk
At every stage of growth, the ability to identify and manage risks within your business stands is a vital element of success as effective risk management limits the impact of volatility within a business's lifecycle.
Market-leading businesses find the right balance between risk management and risk-taking to ensure that change is conducted in a manner which achieves growth – financially and culturally.
Importance of Growth for a Small Business
Growth is important for any business but with 90% of startups failing and 40% of small businesses still recovering from the impact of Covid 19, growth is a positive sign for small organisations that there is potential longevity in the lifecycle and business strategy.
Small businesses need to ensure that they keep the concept of scaling as a considered factor for growth. By appointing the right individuals into the appropriate teams, the organisation can function effectively, which will result in positive business culture and customer experience. Although, gaining a profit is an example of growth, ensuring that the people element (employees and customers) of your organisation are satisfied is also essential to the success of your business as customer acquisition and retention can flourish, as a result. Growth in a nutshell can enable businesses to build on their assets, and gain effective employee talent and long-term funds for investments such as expansion.
Ideas: how can I hack my small business growth?
There are a variety of tactics that can be implemented within a small business or a startup to achieve short-term growth. If the 10 growth hacks explored in the examples arent' enough then here are more ways to further your growth via profit and customer acquisition.
Use review sites such as Trustpilot to your advantage
70% of shoppers read one to six online reviews before completing a purchase so, make your brand and offering easier to discover by sharing customer reviews on external websites. Be sure to also communicate with your customers via comments/replies as this can improve and build a strong brand-customer relationship.
Include chatbots for a seamless user experience
Chatbots can be used via your website or app to provide users with messages in a conversation style. Here are some ways chatbots have benefit users when visiting a website, for example:
Book an appointment or consultation
Tutorial on how to sign up for a service/membership
Answer frequently asked questions
Provide basic information about physical stores e.g. hours, location, and phone number.
With the use of chatbots, users can interact and communicate with an employee therefore, response rates will increase along with customer satisfaction and consequently, retention.
Improve your content strategy
Content marketing is expected to grow from 2021 to 2025 so, why not use an extra tactic to boost your presence within your industry as well as provide additional value to your users, with content like blog posts?
As a small business, content marketing is a sure way to gain a small win without breaking your marketing budget.
For example, social media platforms can be used as a channel to promote and communicate with your customers in an informal yet informative manner. Always align the appropriate social platform with the voice of your business/brand, users engage and purchase your offering because there is an element of identity connection so, showcase your opinions, and product/service offerings on channels that you know your users will browse.
Another free content marketing tactic is blogging, not only does this improve the SEO efforts of a business but it also provides another method of engaging with users. The idea of blogging may sound challenging but you do not need to be an amazing writer or a thought leader.
Discover topics that are related to your industry and are of interest to you as well as your readers. Give them the information they want to know, in a way that can be understood – jargon or trying to make your writing sound fancy will lead to your content being indigestible and that can cause them to leave your page as the information provided doesn't meet their expectations. Within your own content, you can direct your users to sources you found helpful or have recently tried out – providing your opinion can be another method of becoming confident in blog writing.
Outsource tasks
When experiencing growth, other aspects of your business can lose your attention such as Human Resources, for example. This can occur due to the lack of time employees may have as they focus on increasing organisational growth or because the team lacks the skills to run this department efficiently. No matter what the reason may be, outsourcing the tasks that you may not have the time or skills for can be an even better solution than trying to manage it yourself or keep it in-house.
This tactic can ensure that time is saved, and the department in question is taken care of by experts which, can also be symbolic of a long-term investment as mistakes will be eliminated and costs will be minimised.
By investing in external help, the business can continue to grow without remaining stagnant as each department of the company will align and work in harmony.
How to implement a successful growth hacking strategy for growing your business
According to Sean Ellis, growth hackers are individuals whose 'true north is growth'. A growth hacking team is more than just a group of marketers – developers, product managers and engineers can also be a part of the team. This collaborative effort ensures that the
You might be asking 'what are the fundamentals for a growth hacker?' to assess if these skills/qualities lie within your current team or how to implement it in future projects.
Fundamentals can include:
Strategic – use analytics to measure outcomes
Creative & analytical skills
Understanding & ability to connect the relationship between Marketing & Product Development
Start growth hacking
A way of implementing this combination of tactics is to use the classic trial-and-error method, based on data.
For example, if customer acquisition is an issue as a new start-up, then a variety of 'hacks' can be tested within your team.
Implementation of growth hacking in your business:
Assess the current process that is used to promote your brand, product or service. What marketing channels have been successful? What cost-effective ideas can increase brand awareness among your target audience, that has not been tried yet?
Once these ideas are agreed upon, the growth hack team can design a variety of experiments and establish what a potential solution is.
The experiments will then be taken over by other specialists within the growth hack team e.g. designers, and engineers to ensure that the user and their journey are considered throughout the AAARRR.
Following the changes made by the team, the experiment can be evaluated for success or improvement.
If the experiment is successful, then this idea can be implemented for future use.
However, if the experiment provides results that are not aligned with your business goals, for example, if the 1st idea is not cost-efficient in the long run, then there is always the option to alter the experiment for improvement or run tests for an alternative idea.
The great thing about growth hacking is that it allows flexibility as well as creativity, without the worry of financial burdens – something that traditional marketing has been previously known for.
In conclusion, growth hacking is a relatively new term that refers to a set of methods used by startups to rapidly grow their user base. These methods include tactics that we have discussed such as social media strategies, influencer marketing, paid advertising, etc.
Here are some free tools that every marketer should use
1. Mailchimp
Mailchimp is essential for your email marketing strategy. If you have under 2,000 signees on your email marketing list, then it's best to use the free version of Mailchimp. With email templates, content optimisers and the ability to present insights from campaigns, everything that a marketer needs to create and assess their email campaigns is provided through one platform. This tool can help you minimise time spent on implementing your email strategy while increasing your productivity and audience scope.
2. Google Analytics
85% of marketers have been found to use Google Analytics for website analytics and campaign tracking. With this tool, you can gain an in-depth insight into the performance of your website e.g. how many users have converted, how long a user spends on a particular page, etc. The analytical software can help you decide what aspects of your website require improvement or optimisation, for SEO purposes.
3. Grammarly
No matter how good of a writer you are, everyone is bound to make spelling or grammatical errors at one point or another. Grammarly solves this inevitable mishap by detecting the errors in your writing so, the days of spelling mistakes in ad copy or that important email to your colleague should be minimised. The grammar tool can also be installed as a plugin, making it effective on various platforms that you use on a daily basis like Linkedin, Instagram and Gmail.
4. Buffer
With social media being a 'go-to' marketing channel for modern businesses, it's key to find a social media-orientated tool that makes your day-to-day job easier. Buffer enables you to set up posts for your social media accounts, which means you can save time with the uploading process and continue your day with other tasks on your to-do list. In addition to its content scheduling feature, Buffer also offers an analytical feature for your social media campaigns as well as an image editor for your future content.
5. Semrush
This SEO tool is the gem that all marketers need to engage with. Semrush conducts keyword research, tracks the keyword strategy you and your competition may use, and completes an SEO audit of your blog and backlinking opportunities. With over 471,000 users of the online visibility platform, it can aid in your SEO marketing efforts when conducting organic research, competitor analysis and content audit.
6. Answer the public
Answer the Public is another 'must try out' keyword research tool for marketers because it visualises search questions and provides suggested search terms, based on real-life data. This tool is ideal if you're searching for long-tail keywords to optimise.
After entering the keyword you aim to target or be known for, multiple categories e.g. questions, prepositions and comparisons will be generated – all with your keyword in mind.
When I used 'growth hacking' as my keyword, the categories that appeared as a visualisation included frequently asked questions by users such as, what is growth hacking and how to become a growth hacker. Therefore, these fundamental questions within the digital marketing industry remain commonly asked via search engines.
Questions produced by this tool are substantial for various marketing tactics, for example, content ideation due to the insight you can gain, regarding what questions or thoughts remain undiscussed within your industry.
7. Frase
Talking of content ideation, if you're still looking for a tool that enables you to plan and generate content with FAQs and top SERPs in mind then explore Frase. This tool can help you plan and optimise your content to answer the key questions your target audience wants to know. With the help of Frase's research feature, you can compare your content with the top 20 SERPs to identify keyword opportunities and minimise topic gaps.
8. Hubspot
This tool is the holy grail that marketers can go to for knowledge development, templates and CRM needs. With the Hubspot Marketing tool, you can access a variety of resources such as web and pop-up forms and live chat software meaning that you can communicate with your audience in real time.
9. Optimizely
Optimizely is a tool that is useful for experimentation as the software platform aids developers in creating and running tests on websites. This tool can help with audience targeting as tests can be conducted on different segments of your audience, which can improve your SEO efforts as a variety of edits can be made to your web pages to improve your website's performance without causing an inconvenience to the editing process.
10. Typeform
Typeform is another must-use tool, the web-based platform enables you to create anything from surveys to apps. Surveys via this tool are mainly used by marketers, due to the simplistic and visually aesthetic forms, which are interactive and engaging. These can be embedded into a website or as a link via social media platforms.
Through these interactive forms, you can gain insights into your audience and share across multiple digital marketing channels – increasing your audience reach and customer engagement.